Portsmouth Crime Line's 1st Annual Spring Golf Tournament
May 24, 2018
Please join us for the Portsmouth Crime Line's 1st Annual Spring Golf Tournament at Elizabeth Manor Golf & Country Club on Thursday, May 24, 2018. This golf tournament is a fundraising effort by the Portsmouth Crime Line to help raise money to pay cash rewards to anonymous tipsters who help local police departments solve crimes that are occurring in their communities through our tip program.
For this tournament, a single player registration fee is $85 and a foursome registration fee is $320. Prizes will be awarded for 1st, 2nd, and 3rd place in longest drive and closest to the pin. Registration fees include greens fee, cart, practice balls, a boxed lunch, door prizes, on course refreshments, and a dinner reception for the awards presentations. Registration check-in and lunch begins at 11:00 a.m. with a shotgun start at 12:30 p.m. All registration forms must be received by May 11, 2018 to participate. Registration forms can be emailed to: PCLVA@yahoo.com or they can be mailed to:
Portsmouth Crime Line
P.O. BOX 662
Portsmouth VA, 23705
For more information about our tournament please contact Rob Camlin at (757) 493-1557 or via email at rob@abcva.org
Download the registration form here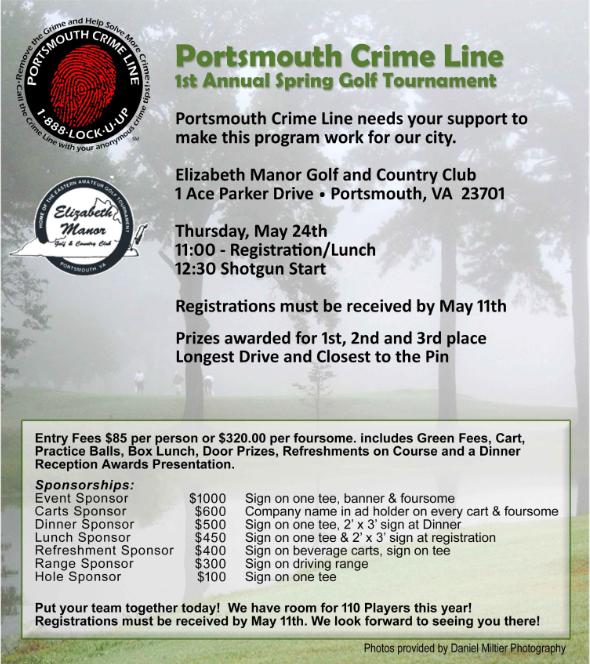 ---
Comedy Night at Mario's
March 24, 2018
Join us at Mario's Italian Restaurant for great food and lots of laughs on March 24, 2018 beginning at 8:00 p.m. Tickets are $15 and are on sale now. Proceeds from ticket and food sales will benefit the Portsmouth Crime Line, a 501(c)3 Non-Profit Organization, to help pay the cash rewards given to anonymous tipsters who submit crime tips that lead to an arrest, recovery of stolen property or the seizure of drugs. To purchase tickets please contact Christie Saunders at (757) 235-9538 or email us here.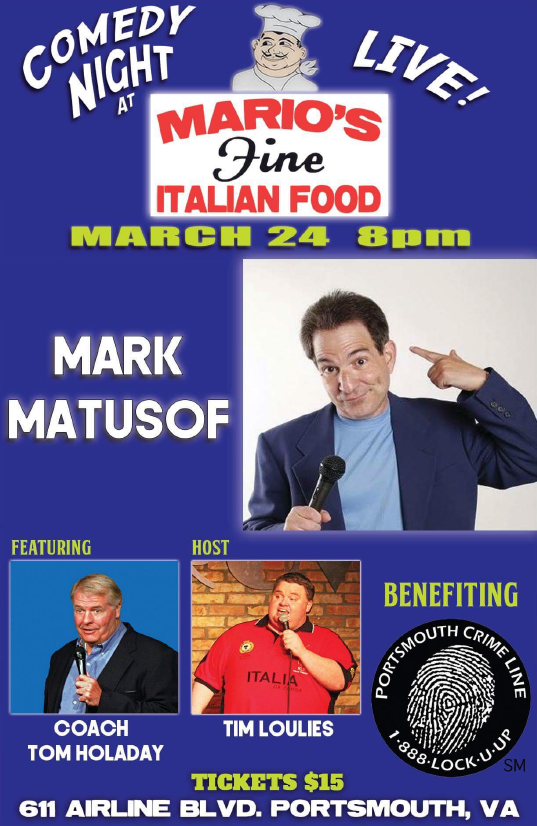 ---