Portsmouth Crime Line is comprised of a wide spectrum of private citizens who care about their community, offering time and work without drawing any remuneration. Their goal is to make Portsmouth a safer place to live, play, work and shop.
Portsmouth Crime Line was established in August 1981, after Portsmouth Police Sergeant Gary Smith (now retired) saw the successful program in Fairfax, Virginia (first program in Virginia). With the help of Sergeant Smith and Fairfax County Crime Solvers program, Portsmouth Crime Line was born. After developing Articles of Incorporation and an independent set of By-Laws, our program now operates as an independent 501(c)3 non-profit organization and is a member of Greater Hampton Roads Regional Crime Lines board.
The Crime Line concept has developed into a combination of efforts by local media, businesses, civic and social clubs, law enforcement agencies, and the public. Donations of airtime, newspaper space, and reward monies have established Crime Line as an effective tool to fight crime in a community. Our Crime Line board is comprised of diverse, active and dedicated community representatives who help provide a method for local law enforcement to receive information on crimes. It is our desire to continue our efforts to increase tips, which in turn increase arrests of criminals within our community.
Portsmouth Crime Line is not part of Portsmouth Police Department, nor is it run by a police coordinator assigned to assist our board of directors with filtering anonymous tips received to the appropriate detective or officer for investigation.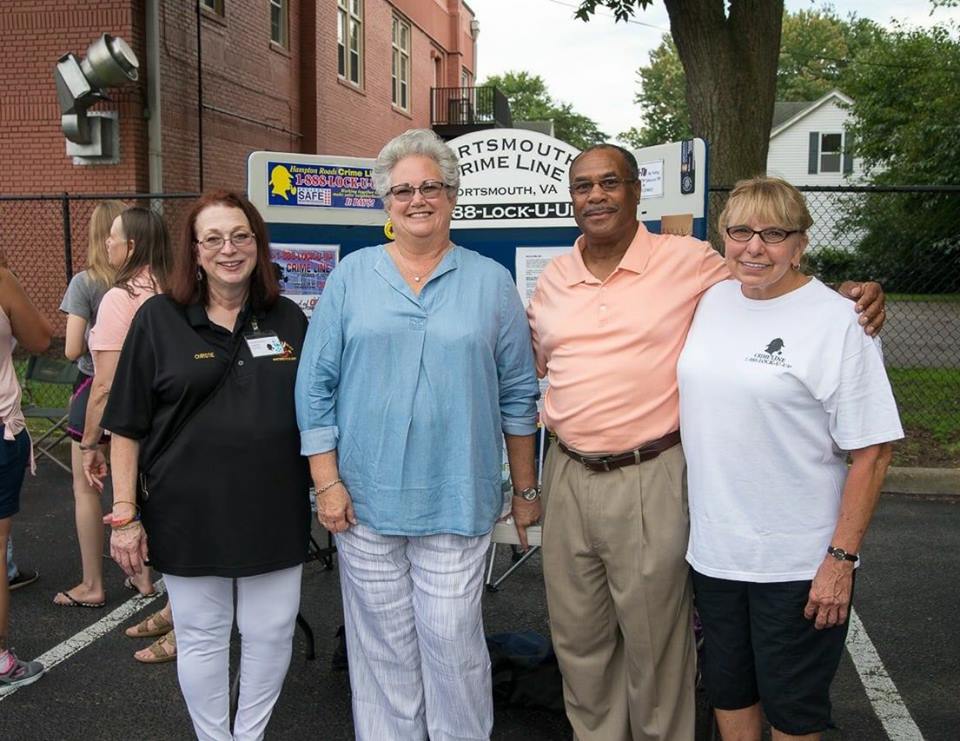 (left to right. Portsmouth Crime Line Board member Christie Saunders, City of Portsmouth Vice Mayor Elizabeth Psimas, Portsmouth Crime Line Board Member Vernon Williams and Portsmouth Crime Line Board Member Donna Stephens at Port Norfolk's 2017 National Night Out Event).